Closing Early Wednesday, November 29th
The Zingerman's Coffee Company café will be closing early Wednesday, November 29th. Quittin' time will be at 3pm.
"Home-strech" tasks of café renovation will be completed during this time. We'll be back to business the following day, Thursday, November 30th.
As always, we are so grateful for your patience…we're almost there!
Last week, we unveiled exciting new features of the café. We're thrilled to see you getting cozy in our banquettes!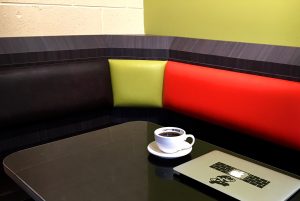 If you haven't already, stop in and let us know what you think!
Closing Early Wednesday, Nov. 15th
The Zingerman's Coffee Company café will be closing early Wednesday, November 15th.
Quittin' time will be at 3pm!
We will transition into our new ordering & serving area the following Thursday, November 16th. Regular hours will resume, starting at 7am.
We're excited to unveil this latest development in our buildout! Stop by and let us know what you think! If you'd like to check out our progress thus far, click here.
To Cup From Bean, and Everything In-Between! Classes at the Coffee Co.
A fine cup of coffee is a simple pleasure, but there's plenty of craft and consideration that our baristas pour into it.
We are pleased to share this expertise with our community of coffee lovers, with two classes offered monthly:
Comparative Cupping
Enjoy coffee samples from Africa, Central and South Americas, and the Asian Pacific. We will taste and evaluate these coffees using the techniques and tools used by professional tasters. This is an eye-opening introduction of the world of coffee.
Brewing Methods

Learn the keys to successful coffee brewing using a wide variety of brewing methods from filter drip to syphon pot. This tasting session will explore a single coffee brewed 6 to 8 different ways, each producing a unique taste. A demonstration of the proper proportions and techniques for each method and a discussion of the merits and differences of each style will take place.
Both classes are taught by Chris Glasow, who is a long time fixture here at the Zingerman's Coffee Company. He has represented us at various competitions including the World Barista Championships (2012), Motown Throw-down (2013), World Latte Championship Open (2013), and America's Best Espresso (2016). He brings a technical expertise to the Coffee Company; helping to design and implement our training program, and helping to improve our coffee quality not only in house, but wherever our coffee is served. Additionally, Christopher assists with coffee roasting and is a member of our front-of-house leadership team.
We have a few spots left for our June classes – sign up today!