Closing Early Wednesday, November 29th
The Zingerman's Coffee Company café will be closing early Wednesday, November 29th. Quittin' time will be at 3pm.
"Home-strech" tasks of café renovation will be completed during this time. We'll be back to business the following day, Thursday, November 30th.
As always, we are so grateful for your patience…we're almost there!
Last week, we unveiled exciting new features of the café. We're thrilled to see you getting cozy in our banquettes!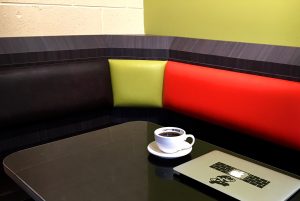 If you haven't already, stop in and let us know what you think!