Check Out Our Fresh Digs! Join Us For Our Grand Re-Opening.
Enjoy our fresh café with us during our Grand Re-Opening weekend, taking place February 24th and 25th! This event will mark the official unveiling of renovations that we underwent between July and November, 2017.
A few years back, we saw that our business was expanding and that a need for additional seating was needed. In addition, we knew there were many things we wanted to change in the cafe operation, and it has been a longstanding desire to add a toast bar. This renovation satisfies everything we wanted PLUS some!
Improvements: 
Expanded seating was a major part of the reconfiguration. Along with ample table seating to accommodate a growing clientele, our café now features a large section of banquette seating, equipped with multiple power ports for guests. Bar seating has also been added, providing a front-row view of the action behind the espresso bar.
A larger behind-the-bar kitchen area has made room for a larger menu of food options. In addition to a daily selection of pastries from Zingerman's Bakehouse, we have added a new Toast Bar. The sweet and savory toast varieties currently being offered are made with ingredients from the Bakehouse and Zingerman's Creamery as well as products sourced throughout the Zingerman's Community.
An early bestseller is the Bulgarian Toast, made with Zingerman's Bakehouse Sesame Semolina bread,  Zingerman's Creamery handmade Cream Cheese, and a drizzle of extra virgin olive oil. It's topped off with a generous spreading of Lutenitsa, a Bulgarian spread that combines roasted peppers, roasted eggplant and tomatoes.
The Grand Re-Opening festivities are open to all. Here's a bit of what we have in store for you:
Panama Geisha coffee – a rare, limited-release roast!


Samples of our new toast recipes, all with ingredients sourced from within our Zingerman's family

The chance to win a fully-loaded coffee gift set, including a complete brewing system (Chemex brewer, filters, kettle, & scale), a bag of Panama Geisha coffee, logo tee,  a travel mug

A never-before-served barista creation and a brand new toast recipe—to be revealed and served during our Grand Re-Opening weekend only!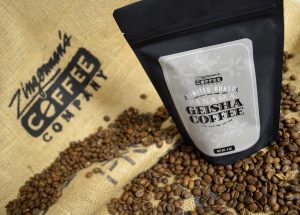 It's free to RSVP, you can do so here:
https://events.zingermanscommunity.com/event/zingermans-coffee-company-grand-re-opening
We hope to see you there, and thank you endlessly for your support!