Your Coffee, Curbside! 🚗❤️
We are OPEN for take-out orders, and now – to serve you better – we're offering our coffee, curbside! 🚗
For curbside delivery…
Step 1: Give us a ring at (734) 929-6060.
Step 2: Tell us your order; we'll let you know when it'll be ready.
Step 3: Call us when you arrive with a description of your vehicle, and we'll be out in a jiffy!
Step 4: Enjoy your daily cup o' joe!
We are so grateful for your ongoing support, and look forward to serving you in our cozy cafe in the near future. ❤️
We are Open and Prepared: A Letter to Our Guests from Zingerman's Coffee Company
Updated 3/24/2020
A Note About COVID-19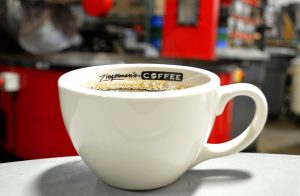 To our wonderful guests,
By now you've heard Governor Whitmer has ordered all restaurants and bars in Michigan to temporarily discontinue dine-in service and has issued a 'Shelter In Place' order as of midnight on March 24th, which will be in effect for at least the next few weeks.
The U.S. Government considers coffee to be a critical Infrastructure industry; therefore Zingerman's Coffee Company qualifies as an essential business during current 'Shelter In Place' orders.
As such, we are grateful to share that we have the following options available to keep you caffeinated:
Our cafe is open 7am-4pm every day for take-out orders (our full menu is available)! We intend to stay open while continuing to follow CDC-recommended guidelines to ensure the well-being of our employees and customers.
We are offering curb-side pick-up!
Give us a ring at (734) 929-6060 to place your order; park in a designated "Curbside" parking spot in front of our cafe, and give us another ring to let us know that you're ready for us to bring your order out to you.
We have partnered with Snackpass to offer online ordering & interaction-free, in-store pick-up!
Hunkering down at home? We can deliver coffee to your door, via our friends at Zingerman's Mail Order.
Enjoy a new coffee country every month with the Coffee Club, or get your favorite roast on repeat with a coffee subscription!
We are beyond grateful for your support and patronage as we navigate such uncertain circumstances; we will update you as any developments or changes occur with respect to our operation. If this outbreak increases in severity, we may make more significant changes to serve you effectively and will notify you of them through social media and in our store. If you have any questions or concerns please feel free to reach out to us at 734-929-6060. 
At present, we encourage you to be strong like good coffee and press on! 
Warmly, 
The Zingerman's Coffee Company team
Peruvian Coffee From Café Femenino
Female farmers cooperative offers up superb coffee
Ari Weinzweig, CEO & Co-Founder of Zingerman's 
Back in 2004, Isabel Uriarte Latorre co-founded Café Femenino, an organization dedicated to empowering women on the front lines of the coffee industry. Very much like the folks at Ziba in Afghanistan that I wrote about earlier this year, she's built the business to support women—financially, spiritually, and socially—in the work world. The folks at Café Femenino share that,
Women in remote and rural coffee communities face a host of challenges that keep them trapped in poverty. Many of these isolated women live in male-dominated societies and have very little financial control or decision-making power. Four-hundred-sixty-four women farmers in northern Peru decided to change this dynamic by separating their coffee production from the men's. At that moment, for the first time, this group of women created their own product and income . . . to support social justice and empowerment for women coffee producers worldwide. 
Erlita's farm is near the village of Nueva York, a small coffee community in the Amazonas region of northern Peru, east of the Andes Mountains. (Intriguingly, there's also a town Peru, New York, in the far northeast corner of New York state.) The Amazonas is a high-elevation area, typically 5,700 to 6,500 feet above sea level—ideal for high-quality Arabica coffee trees.
Does the work of Café Femenino make a difference? Steve Mangigian, managing partner at the Coffee Company made the trip down to Peru last summer. He quickly offered that, "the dynamic is completely different than traditional male-run farms." Every article I've read about them details outstanding results: increased local recognition of the work the women are doing, both in the fields and on the home front; a reduction in abuse (physical, emotional, and sexual); an increase in income; more men participating in child care and housework, and upswing in school attendance among local girls. It's hard to argue against any of that! In addition, because the female coffee producers in the area now have the potential to get a better price for their coffee, many men are signing the deeds of their land over to their wives so their coffee will be eligible for Cafe Femenino designation.
Of course, the key question is, how does the coffee taste? Steve Mangigian is particularly high on Erlita's beans: "This coffee has so many delicious layers! On first sip, it has a deep fruitiness that reminds us of plum. It also has a rich, toffee-like sweetness and a full, creamy body." I say, it's pretty darned tasty! Darker than last month's Peruvian Peaberry. Smooth, a bit of dark chocolate, maybe even like a piece of toasted Country Miche bread from the Bakehouse. The coffee has a surprisingly clean finish and modestly full mouthfeel. All the brew methods have been good, but I'm stuck on the smoothest flavor of the bunch, which I found to be Chemex.
Sip some of this great new coffee and nibble on a Bakehouse cookie—as of this month all of them are even better than ever because they're made with freshly milled whole grain from Ferris Organic Farms in Eaton Rapids at the Bakehouse. Erlita's Lot is available at the Coffee Company, Next Door Café, and at the Roadhouse.
Excerpt from Ari's weekly Top 5 E-Newsletter. To stay in-the-know about things that Ari is excited about in the Zingerman's family, sign up here!