Coffee Cafe
Location: 3723 Plaza Drive, Ann Arbor MI 48108 | (734) 929-6060 | Open Everyday 7AM-4PM
---

The Buzz On The Coffee Cafe at Zingerman's Coffee Company
Why it's a top choice for caffeine cravers of every kind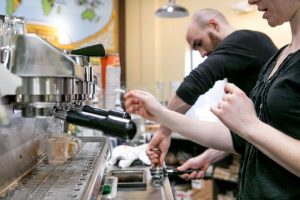 6 Unique Hand Brewing Methods
Zingerman's Coffee Company baristas expertly prepare a full menu of espresso drinks and drip coffees from fresh roasted beans. But the real coffee clout in this café is their hand brew methods: Pour Over, Clever, Chemex, Aeropress, French Press, and Syphon. Each one is like a cool science experiment, that you can drink!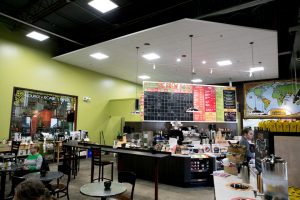 The Big Brew Board Experience at the Coffee Cafe
Managing Partner Steve Mangigian developed the Big Brew Board, a caffeine chess board of sorts, that hangs in the café. It displays how each bean type and blend has a slightly different flavor profile when put through each of the six hand brew methods. The board encourages the exploration of coffees from around the world and expert techniques for preparing them. Each presents a unique flavor opportunity. Coffee is as nuanced as wine. And the Big Brew Board at Zingerman's Coffee Company is like a charged up game of checkers. Coffee can be fun!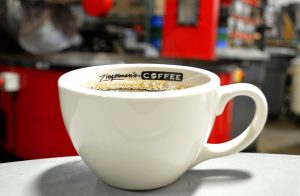 Coffee Knowledge Served Daily
Our friendly and knowledgeable baristas are thrilled to answer any questions you may have about coffee! From the difference between an Americano and a Macchiato, to coffee roast flavor profiles, to relationships with coffee growers, they have the answers. You can also pick up educational coffee books or attend a coffee class. Monthly formal coffee tastings called "cuppings" are offered in the classroom at the café to get your palate on its way to expert level.
Responsibly Sourced Beans Roasted Before Your Eyes
Through the café window you can see the skilled coffee roasters in action, taking each small batch of beans to the correct specifications for desired flavor. Green coffee beans are sourced directly from growers all over the world and treated with care to maintain freshness and maximize flavor. Coffee Company staff even travel to visit some of the growers throughout the year to develop close relationships with the coffee farmers, learn about the process and select which bean crops to purchase.
Your 3rd Place
You're welcome to hang out and enjoy the café space. There's ample free parking, plentiful indoor and outdoor seating, and power ports throughout for powering up your electronic devices while you get powered up yourself. They just ask that you are open to sharing your table with other café goers if you plan on staying a while.
The Food Is As Good As The Coffee
The toast bar menu features artisan bread, cheese, spreads, and spices from the Zingerman's Community of Businesses. There's also fresh fruit, roasted nuts, candy bars and pastries from Zingerman's Bakehouse. You can find something that satisfies every taste and every time of day.
There's More Where That Came From
Zingerman's Coffee Company is located at Zingerman's Southside on Plaza Drive in Ann Arbor. So you're steps away from other artisan food makers and teachers – Zingerman's Candy Manufactory, Zingerman's Creamery, BAKE!, Zingerman's Bakehouse and ZingTrain. It's quite the food and education destination.
No Caffeine? No Problem
A selection of loose-leaf herbal teas, fruit smoothies, craft soda, sparkling water and hot cocoa is served in the café. They also take great pride in the flavor of their decaf coffee, Detroit Street Decaf. Great decaf can be done! Ask for a sample and taste for yourself.
Insider Deals
You'll be entered into a monthly drawing to win a free coffee drink of your choice if you complete a comment card in the café. Swing by on your birthday and enjoy half-off a coffee drink. Sign up for the enews and you'll be the first to know about upcoming classes, monthly specials, and limited release coffees.
Now you've got all the buzzworthy info on the café at Zingerman's Coffee Company in Ann Arbor.